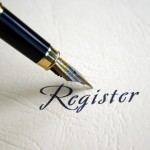 Organizing player registration can be one of the more difficult facets of setting up your golf tournament. Though vastly under-appreciated, coming up with a quick, easy, and organized player registration process can mean the difference between a fast start to your event and a train wreck. Read on for our player registration tips!

Start Planning Early
With so many players and teams, the process can get really confusing very quickly. The best way to avoid this is to not wait until the last minute to get your registration procedure ironed out. Try to give yourself a few days before the event, that way you have a good buffer zone if you run into any problems.
Create your Lists
To get started, create two lists: one for pairings, and the other an alphabetical roll call. The pairings list will segment participating golfers by hole number, allowing volunteers to easily direct them to their respective starting points. This list is also really helpful for providing name tags and players gifts.
While the pairings list streamlines the process for players, the alpha list does the same for the golf course. Be sure to give them the list ahead of time so they won't have to rush to arrange the bags at the bag drop or load the golf carts with the correct clubs.
Email Participants Ahead of Time
If you really want to be organized, you can even email your participants their designated hole in advance. This will ease any additional stress at the registration booth and make everything move a bit quicker. As far as the lists go, it's not overly necessary that each volunteer receive a copy of both, but you will want to provide those working the registry with a set of each since the alpha list doubles as a handy check-in catalyst. As long as each volunteer has a copy of their respective list, getting the players registered and on their way to the right hole should be a cinch. To ease the process, you may want to look into hole punching and providing binders so that no one loses theirs.
List your Sponsors
Lastly, it never hurts to formulate a list of your golf event's sponsors. This simple step eliminates the need for memorization, and ensures you're fully prepared to build some strong, healthy relationships.
Now that you've read this post, I hope you have some further insight into the registration process, and how you can streamline yours. So what's the next step? Get out there and get planning!