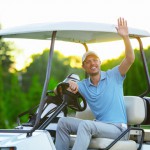 Picking the correct golf format is key to any successful golf tournament – pick one that's too slow and you'll jam up the game, pick one that's too fast and you'll force players to play beyond their limits. So what can you do to accommodate players of all skill levels? Well, these fun golf variations are there to ensure all your players have a good time, whether it's their first time on the course or they've been doing it since birth.

The Four Person Scramble
In addition to being probably the easiest tournament format to implement, this game type allows players of all skill levels to play and socialize together without slowing down the game.
To set up this format you will pair all of your registrants into teams of four. From there, each player begins with a drive (tee off) at the ball. The ball that goes the farthest then becomes the place marker for the next shot. This continues from shot to shot until all participants have finished the hole, and eventually the course.
Best Ball
Best ball is a slight variation of the four-person scramble. In this arrangement, each player competes to finish the hole first; however, rather than using the farthest ball as the place marker, each player only plays their own ball all game. By eliminating the importance of total strokes, this style gives players of varied abilities a chance to have a good time. Meanwhile, the more competitive golfers will enjoy competing for the most holes won, and playing their own ball all day.
The Alternative Shot
This rotation-based format is played in teams of two – so you may want took looking into some pre-tournament advertising. Many players will want to pick their partners in advance, and for those that don't, pre-formed teams will take a lot of the hassle out of matching up the remainders.
In this game, the players of each team alternate their shots until one of them sinks the hole.
The arrangement is best played when teams alternate their driver; otherwise, one person's having all the fun, and the other's just wishing they were. This format's great for competitive players, as they're free to pick the partner of their choice.
Skins
In this format each hole is pre-designated to be worth a certain number of points. All players take their strokes, and the one who accumulates the least wins the points associated with that hole. In the occurrence of a tie, the points of that hole get added to the next – making for a very exciting game, as a tie can make a single hole two to three more times valuable than another.
Now that you have insight into some of the tournament formats that are out there, take some time to consider the anticipated skill levels of your participants, and the goals of your tournament. From there you should be able to pinpoint the perfect format for your tournament. And remember, whichever tournament style you choose, make sure to keep your tournament day interesting, and your players excited!